A Practical Guide to Indicators
<![if !vml]>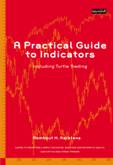 <![endif]>Including Turtle Trading
Author: Rombout Kerstens    Amazon Author Page
Paperback 144 pages, ISBN 978-90-77553-09-1
Order now at Amazon.com         Preview (PDF)
'A Practical Guide to Indicators' leads you through the selection and application of technical analysis indicators and trading systems, with a bias towards practical and useful information rather than theoretical depth. It describes the most commonly used trend-following indicators, trend indicators, oscillators and volume indicators. It also covers the backtesting and optimization of indicators, and discusses DIY trading systems.
A crucial element of successful trading is the correct buy/sell timing based on technical analysis. However, this book also deals with other key subjects that are equally important, like psychological factors and money management. In addition, the pros and cons of various financial instruments – futures, options and CFDs – are discussed.
The ultimate goal is to arrive at a complete trading plan that can be applied with discipline and confidence.
Subjects covered include:
-       Technical analysis
-       Backtesting and optimization
-       Trend-following indicators
-       Oscillators
-       Trend indicators
-       Volume indicators
-       Seasonal indicators
-       Volatility indicators
-       Turtle Trading technique
-       Do-it-yourself trading systems
-       Leveraged investment: options, futures and CFDs
-       Money management
-       The psychology of investing